2012 has come and gone and now is the time to embrace the new year with a list of goals!
We put this project together to form a community of ladies who will get goal ideas from each other as well as be a source of encouragement, helping each other reach these goals.
What we want you to do is create a list of your top 13 goals for 2013 and then film a short little vlog (around 4 or so minutes) highlighting your top ones from that list as well as why they are there.
Super easy, right? So go ahead my friends and blow our minds! Share what goals you have!
Now you all know how much I love vlogging, but I'v actually been out of town for a few days and I haven't had a chance to film, edit and upload, so we're going to have to make do with a nice, old fashioned list! Hopefully for the follow up link ups, I'll be able to film a vlog.
It's never to late to get more people on board.
Plus, remember there will be two more link ups throughout 2013 to see your progress!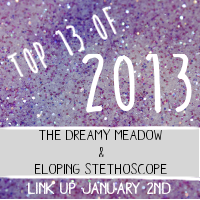 3.
Link up your post and vlog via InLinkz below!
4.
Tweet and spread the word!
Tweet
5.
Keep an eye out in June and December of 2013 for the next linkups!


Have you met this amazing blogger?