One of the biggest things I'm always asked to do is to talk about nursing school some more. Apparently, even to those of you that aren't in nursing school, you like to hear about it.
This can get kind of hard to do. I'll be honest. Nursing school is difficult, makes you have nervous breakdowns, causes you to gain 15 lbs a semester from eating junk and to be honest...we kind of think it's boring to non-nurses.
I have evidence of this fact. I can't tell you how many times I'll be laughing at something and Cody will ask me what it is. When I tell him, he just gives me this look like "Tell your nursing school friends." Or we'll be eating dinner and I know when I've crossed the line into narsty when he puts down his fork and just sits patiently for me to realize it. Oops, sorry hun!
Another problem is that there are so many privacy laws! It's hard to know what's okay and what's not, so I just don't post at all.
But, when Anna from
The Days When I'm Not a Nurse
asked me to cohost a nursing link up once a month, I jumped at it.
Why? A, I can get you guys some nursing stories and B, I'll have someone else to come up with topics for me.
Like this one. The first test day.
I seriously remember this test like it was yesterday. It was in Pathophysiology. It was the hardest "first semester" class (When I refer to semesters, I mean semesters in actual nursing school, this was my 5th semester of college) and they scheduled it to be the very first test. Aren't they sweet?
Anyway. So, I started studying the week before the test. We had four lectures on the test, so I divided them up. I did one lecture a day and then for two days, I quizzed myself with the literally hundreds of flash cards I had made.
The day of the test, I was a ball of nerves. At our school, they divide our entire class (At the time it was 170, we're now down to 80) into two groups and you all go in at the same time and leave at the same time so no one can give away any of the questions to other students.
We are practically patted down when we walk in to avoid cheating.
Before the test has to be the most nerve wracking. Some students are frantically studying, others are just sitting, staring off into space. No matter what, you will hear something that you don't know.
No matter how much you study. This will happen. I promise.
And you freak. Cue the anxiety attack.
So you are finally allowed into the room and are assigned a number and checked off. You go and log on the computer and wait for them to give you the password.
50 questions. 60 minutes. 1 question at a time. No going backwards or forwards.
You have to answer each question as they come up. This was devastating to someone like me because I used to go over the whole test, answer the easy questions and then work my way through the hard ones.
So you sit and all you hear is clicking all around you (because you haven't figured out you are allowed ear plugs) and the lawn mower or the band outside.
You finish your test and have to stare at the wall because you still have 20 minutes left.
Guys, maybe this is the worst part. You start to count in your head how many you got wrong. Oh crap, panic time. You start to realize which ones you made a stupid mistake on and hate yourself for not realizing it when the question was there, but there were still so many more questions to get through!
When the hour is over, your score and all the ones you missed pop up on the screen. You have to sit in silence as you see your page scroll further and further down.
After the test, you are led through a certain door so you don't give anything away to the students that haven't taken the test yet. You all crowd around outside, analyzing questions, figuring out which ones were unfair etc.
This one was the worst. Because it was our first, the anxiety was higher. Everyone wanted to get that 75 (The highest passing score) and the ones that didn't, were devastated and crying outside the building, wondering if they could even make it through nursing school.
You guys, I made an 86. That was the first day I realized "Yo, I got this!"
I would tell you about my skills tests, but those are for another day! They induce more anxiety than the lecture tests!
Here are the details of the link up:
Here is what you need to know about the 2013 nurse link-ups:
Who: for all nurse/nursing student bloggers
What: monthly linkup (observing HIPAA laws, of course)
When: on the last Wednesday of every month
Why: to create an online community of nurses where we can support each other, make friends, and share experiences.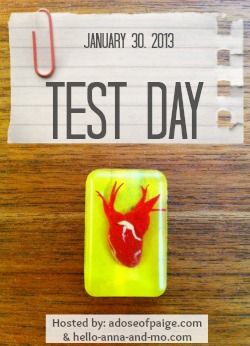 Have you met this amazing blogger?