Once again I am teaming up with the amazing Katlyn from The Dreamy Meadow to bring a fun little project your way! Awesome, I know!
In celebration of the world not ending (just kidding!) and the fact that the new year is approaching ever so quickly, we want to hear all about your goals for the future 12 months! More precisely your top 13 for 2013! We will be having a linkup going live on January 2nd at 12 am PST, so mark your calendars!
So what do you need to do? Well that's simple!
1. Grab a button and post in on your sidebar to spread the word of all the fun!
2. Tweet like crazy!! We could always use more goal ideas and inspiration!
Tweet
3. Write up a post highlighting your top 13 of 2013. You can include reasons and deadlines or simply make a list of what they are.
4. Film a vlog highlighting some of the most important ones on that list and why you are excited to reach them.
*
The vlog is not mandatory but we highly recommend doing one. We love to see your beautiful faces!*
5. Publish your post on January 2nd and link it up on either The Dreamy Meadow or Eloping Stethoscope.
Easy, right? We thought so!

So blow us away with your goals for the new year my friends!

Who knows maybe we'll have some in common and can encourage each other to reach them! :)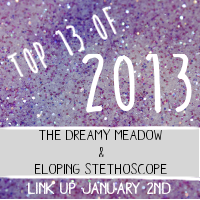 Side Note: We plan on having more link ups for this list as well! One in June to highlight your progress half way through the year and another in December to see how much you've achieved! I know I'm giddy about it too!


Have you met this amazing blogger?