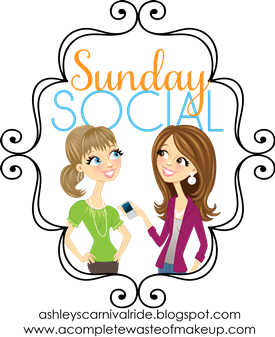 1. What do you miss most about being a kid?
Lazy summer days, playing kickball and wandering through the corn fields by my house.
Going to my grandpa's and swimming and having squeeze it wars
2. Did you have a nickname growing up? What was it?
Yep!
3. What was your favorite thing to do at recess?
ride the merry go round thing
The one where someone has to be pushing it, running in a circle.
4. What did you want to be when you grew up?
I bounced back and forth. I just knew I wanted to do something medical
What was your favorite toy?
Barbies.
6. What is the funniest thing you did as a kid that your parents still remind you about?
Honestly, I have no idea.
I would now like to familiarize you with another lovely girl!
I'm talking about Sarah from A Cat-Like Curiosity!
Sarah covers so many different things on her blog. I am actually amazed with how much I have learned about just by a few recent posts of hers!
As bloggers our lives can get a
little
chaotic and we tend to go a little crazy.. Well Sarah knows just what to do in order to get back in
control and relax
. And while you're relaxing why you can make a delish
Plum Upside Down Cake
to enjoy!
Along with knowing some pretty amazing tips and recipes, she is also gives you a peak at what all goes on
behind the scenes
of her online store!! It's pretty amazing to get to see the products being made before you receive them!
She also does some pretty amazing things every week including Monday Mantras and Fabulous Etsy Fridays that you can link up to!!
Doesn't that just make you want to scoot on over to her blog and get to know her?
Well you should! And don't forget to tell her I sent you!


Have you met this amazing blogger?